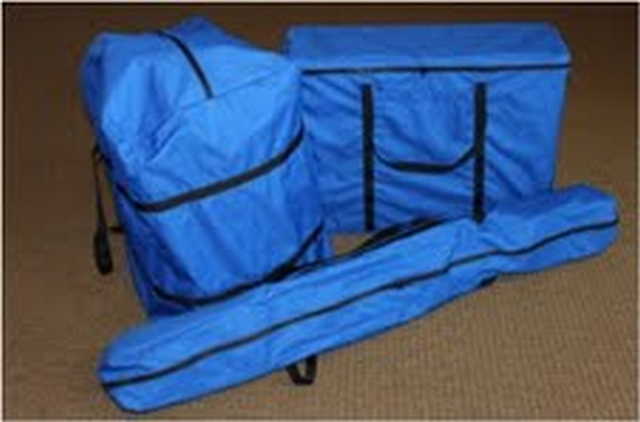 We Specialize in the Creation of Custom Duffel Bags and Can Often Accommodate Other Custom Requests. To discuss the specific needs of your bag or project please contact us at
Our Most Popular Bag Customizations
Fabric

600/300 Denier

1000 Denier

Ballistic Nylon

Sunbrella (Ideal for bags that are left outside)

Zipper Placement

Top only (centered)

2 sides (centered)

3 sides (centered)

Lunch Box Style (Similar to a hinged lid - Zipper along the front and two widths)

Custom Placement

Draw strings
Buckles
Securing / Cinch Straps

Handle Customizations

Adjustable Shoulder Strap

Pockets

Inside
Outside
End
Multiple Pockets
Flat or Depth of your choosing
Open or Zippered

Lining

Fleece Lining
1/4 Foam Rubber
1/4 Polyethylene Foam
Plastic Lining

Embroidery or Screen Printing
Many Other Customizations Available, please contact us for further information
SORRY NO WHEELS
OR
HARD SIDED CASES
Custom Order Inquiry Form (abbreviated)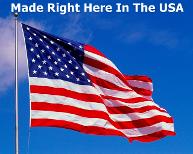 Measure the item or items (in the orientation you plan to carry it/them)
ADD At Least one inch (1") to ALL dimensions to allow space to fit item into bag.
Length (Measurement along floor - usually longest measurement)
Height (Measurement from floor to ceiling - usually handles will run vertically along this dimension)

Round ends can be selected (this covers both height and width dimensions)

Width (Measurement Between handles - often zipper will be centered along this dimension)
Round Bags can be made in two common styles:
Duffel Style (Round ENDS) or
Will also need a LENGTH measurement (distance along the floor)
Wheel Style (Round TOP and BOTTOM)
Bag will also need a HEIGHT measurement (floor to ceiling direction)
We prefer circular measurements using DIAMETER, or distance ACROSS the circle
We can also accept CIRCUMFERENCE measurements (distance around the outside of the circle)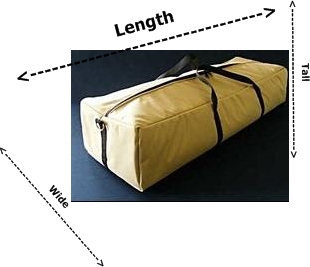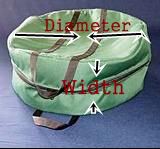 600/300 Denier Polyester
PVC backed polyester is a medium-weight, versatile material, with a durable 0.55mm vinyl embossed backing.
1000 Denier Textured Nylon
Heavy duty nylon fabric finished with a clear polyurethane back coating and durable water repellant finish.
Ballistic Nylon (1650 Denier)
Basket woven INVISTA™ yarns offer a top-performing choice for rugged applications where durability and abrasion resistance are a

high priority
Sunbrella
UV Resistant fabrics hold their vibrant color even with constant exposure to the sun, salt and chlorine of harsh marine environments. Great for bags left outside.
For Lining Fabric Descriptions Visit our Fabric Page
Custom Manufactured Duffel Bags, Made in the USA
All Bags have Double Sewn Seams and YKK Zippers
Free Shipping, No Minimums
Create your own custom size duffel bag.
Creative Canvas Shop will customize a bag the way you want; from extra large to small with many fabric and color choices. Their heavy duty bags have several closure options to choose from including; #10 YKK zippers, drawstring, buckles; or add optional securing straps. They offer pockets, with or without zippers, and even embroidery or screen printing services with your name or a custom logo. Bags can be lined with foam and fleece to carry delicate items, canvas for extra heavy duty needs, or plastic for easy cleaning. Handles can be customized and they offer shoulder straps for easy carrying.
They have provided customers with high quality, custom products for over 20 years. They use only high quality materials, all seams are double sewn for durability, and all work is double checked before shipment. Their employees take pride in providing quality products and individualized service to all customers.
If flying with your bag please check airline luggage size restrictions. http://www.luggagepros.com/travel/carry-on.shtml

Custom Made Canvas Bags.
Made In America.
Made to Last - All Bags Seams are Double sewn; YKK Zippers; YKK Hardware.
No Minimums.
Free Shipping.
For customers who need immediate delivery, please check our Bags Ready To Ship page.
These bags are made with the same quality and care as our fully custom products, but are ready for immediate shipment.
Custom Canvas Bags
Design your own duffle bag.
Have them make one to fit your needs.
Duffel bags
Table bags
Wheel bags
Heavy Duty Tent bags
Equipment bags
Fire Department bags
Hobby bags
Car Top bags
Moving bags
Hunting bags
Instrument bags
Appliance bags
Musical Equipment bags
Keyboard bags
Foot Pedal bags
Drum bags
Machine bags
Trade Show bags
Promotional Product bags
Sign bags
Carry On bags
Camera bags
TV bags
Computer bags
Tower bags
Laptop bags
Gaming System bags
Solar Panel bags
Heavy Duty Tool bags
Custom Tool bags
Sporting Equipment bags
Golf bags
Boating bags
Life Jacket bags
Swimming bags
Folding Bike bags
Hoverboard bags
Snowboard bags
Skateboard bags
Bike bags
E-Bike bags
Motorcycle Side Case
Saddlebags
Hunting bags
Fishing bags
Fly Fishing Rod bags
Scuba Gear bags
BBQ bags
Fire Pit bags
Camp Stove bags
Camping Equipment bags
Replacement Tent bags
Tent Pole bags
Folding Chair bags
Beach Chair bags
Wheel Chair bags
Walker bags
CPAP bags
Medical Duffel bags
Canopy bags
Christmas Tree bags
Wreath bags
Mascot Storage bags
Costume bags
Seasonal Decorations bags
Storage bags
Organization bags
Sets of bags
Clothes bags
Suit bags
Flight bags
Carry On bags
Travel bags
Tailgating bags
Beach bags
Tote bags
Shoulder bags
Over Night bags
Yoga bags
Wok bags
Lamp bags
Metal Detector bags
Battle Bot bags
Gun bags
Weapon bags
Sword bags
Crossbow bags
... Any Bag for Any Thing