I thought you might enjoy seeing the finished I thought you might enjoy seeing the finished product. We love itt!product. We love it!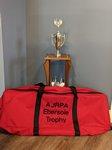 E-bike bags
Just a note to let you know the bags arrived today. They're great - fit just right, and the zippers are just as I wanted them.
I'm very pleased with your work, and the quick turnaround on the order.

Thank so much !

Ron Bolen

Sent from my iPhone
Hello Gill
Felt it important to let you know that the large custom show tent bag you made for me surpassed my hopes and is perfect!!
Thanks big time for getting it made and shipped to me so fast, arrived in time for my AZ show run.
Well impressed
Lane Dukart

Hi Gill,
Attached is a PO for 10 more of the carry bags for our podiums.
The first two turned out great! Thank you!
Jeremy Zandarski
Foreman
Berrien Metal Products, Inc.
Hey Gill,
I received the bag... IT WAS PERFECT!! Thank you so much!!
We wanted to try the bag to see how it works... and since you did such an amazing job, we want to order two more just like it!!
7 feet long and 1 foot in diameter.
I know it will take a few weeks... but we are hooked.
How does that sound?
Thanks
Russ
Hi Gill,

Just want you to know that the fly rod bags were great!  They were nearly exactly like the old bag, but better.  We just returned from a trip to Tierra Del Fuego and they held up very well...in fact, I had several other fishermen comment on the bags.  Don't be surprised if you get a call from other crazy fly fishermen from around the world asking you to make them one too!  

Thank you for working hard to get us the bags with such a short time frame. J.
Hi Gill,
The bag has arrived and it is wonderful -- even better than I imagined. It exceeds my expectations. Great job. You are indeed the best. Thank you so much.
Regards,
Tom.
Hi Gill,
We're just getting back in after an extended labor day weekend (due to the storm). Thankfully all of our facilities were lucky this time with the storm sliding by us out in the Atlantic.
I wanted to let you know that Sean did receive the bags and is very happy with the quality. They work perfect for us.
Thanks a lot! Best regards,
Cameron Metzgar
Hi,
Got the bag in the mail today and I am very satisfied with the result.
Nice color, very stable material and good fit. A very good protection
for parts inside. I got a bit nervous pulling it shut but it fits like a
glove. I'll surely come back to you if I need additional custom bags.
Cheers,
Gert
gert.gottschalk@comcast.net
Hi Gill,
I just wanted to say thank you for the custom bag! It's so nice, even better then what I thought. If I needed to re order another bag exactly the same how would I do that?
Best,
Delia
Tre Chique <info@trechique.com>
Gill,
We received our beach chair bag yesterday and it's fantastic!! Thank you very much.
We would like to purchase 1 additional bag, exactly the same. Could you please invoice me for another one? Thanks again!
Kind regards,
Brian Mason
bpmason@gmail.com
Hey just letting you know I received the bag and it's perfect. Thanks again. I'll be sure to refer others to you and come back any time I need something like this.
Zach
Gill, our wheelchair bag arrived yesterday. The quality is fabulous and I'm so impressed with the zippers! Looking forward to using it for upcoming trip. I'll let you know if FedEx destroys it or not!😜
Terri Sponburgh
Terri Sponburgh terri@tkmomteam.com
Hi Gill,
Our CEO loved the bag! He is just raving about what a great job that was done. He wanted to me to check with you to see if it would be possible to get a large duffel bag (36"-42"long, perhaps?), in royal blue. It would need to be waterproof material and we'd like the same logo embroidered on it. Is this something you could do?
Best regards,
Amanda

Hansa Meyer Global Transport USA, LLC
Thanks for the awesome bags!!
Really happy with my order! Tkx a million for rushing it!!😁
Lori Rofé
Gill,
Received my custom sized bag and am very pleased with the fit and quality. Once again I want to thank you for the extra effort you took to assist me with my order.
Thanks,
Gator Conley
Hi Gill!
Got my bag yesterday in the mail and it is PERFECT! The bag quality is amazing and the embroidery detail is incredible! It turned out EXACTLY how we wanted and we are so so happy with our purchase! I know it was a complicated request, and I cannot thank you enough for making it happen! We will definitely come back to you if we need anything else and will most certainly recommend! 5 STARS ALL THE WAY! THANK YOU THANK YOU THANK YOU!!! :-D


Hi Gill,

The bags arrived! Thank you so much for making this happen. I truly appreciate it. The bags looks great, very well made and sturdy. I am excited to use them, today!
I look forward to working with your company again in the future.
Thanks!
Sincerely,
Hillery Makatura
Production Manager

Bill T. Jones/Arnie Zane Company
Gill,
  You are a man of few words - the bag arrived today - it is a perfect fit - well made - it should last quite a while - I would recommend your service to anyone - well done.
Brian
Dear Gill,
We got the bags and Love them!!! Thanks so much! I love being able to organize things so well with the help of your beautifully made custom bags!
Its a pleasure to work with you,
Katherine (studio Q jewelry) http://studioqjewelry.com/

Hi Gill, just wanted to tell you that the bag looks and works great! Thank you!
--Tara
Tara Kirkman
Communications | Design Manager
Civil & Environmental Consultants, Inc.
333 Baldwin Road | Pittsburgh, PA 15205
Toll-Free: 800-365-2324 | Direct: 412-249-3164
Hello there...just wanted to let you know i got my bag today...its all plenty big enough for my truck..i really appreciate it...great job....thanks so much....if i ever need another one ill give u a shout....thanks again....very pleased with it
Dale
Gill
Works great !!! Looks Great !!! Thank you so much for the quick turn around Cant thank you enough Ralph Huber Partnership For Public Service 1100 New York Ave NW Suite 200 East Washington DC 20005 202-775-2757
"These guys are GREAT ! Gill was excellent with his communication. The advise was brilliant and the final product is stunning !! Thanks a lot guys, I will be back.
Dougie
Bluewater ATU LLC
Tennessee."
Hi Gil,
We received the custom bags today, and are very happy with the product.
Thank you,
Rob Morona
Backline Specialist
Walt Disney Entertainment
Office 407.824.7300
Fax 407.824.6198
I wanted to let you know, that I am VERY satisfied with the product that you made according to my specifications. The bag works perfectly for my jump and carry battery charger. Thank you very much for producing for me what I expected. I trust your craftsmanship and ability to follow instructions, and will be calling you guys for additional items in the future.
Thanks again, Jason
Hi,
We just bought a 60x10x10 grey bag from you and it is wonderful!
For an additional use, we would need one custom size duffel bag as follows:
60" long, 18" wide, 10" high.
Color: grey
zipper placement: Lunch Box style, opening the 18" wide side.
Please email your quote for this size bag and let us know how you want us
to place our order.
Thanks and keep up the good work!
Helmut Grigereit
Hi Gill, I received the cooler and used it in my boat this past weekend and wanted to let you know I was really impressed with how well it kept things cool and the fit was perfect. I'm happy with the cooler and will be recommending you to my friends.
Thanks again, Pete
Dear Gill,
We wanted to thank you for your help with our table carrying bags! They all worked out so well and we really appreciate all of your help. Again, thanks so much and hopefully we will get to work together again in the future!
Best,
Ashley
Ashley Gahagan
SBI/McNabb Roick Events
Hello Gill,
Thank you for speaking with me this morning. I really am impressed with the bag you made for my take down rifle case, tough as nails. It has made a total of five trips from Africa to New Zealand and Europe and is the ultimate in protection. If there was one negative thing to say about the bag it would be that I did not think of or find your fine custom bags sooner. Great to see it pictured on your website.
Thank you
Nathan Higgins
Hi Gill,
I received my 65" bag the other day and it is perfect. Exactly what I wanted. I hope you will be around for a long time because I will want another one later in the year. Scott Bagger
AgentScott.com
Hi Gill,
My custom duffel arrived today and its perfect. Nice job and thanks.
With Best Regards,
Jeff Leonard
Hi Gill--
UPS just dropped off the chair bag-- it's perfect! It's just what we needed and we're real happy.
Many thanks,
Kenn
Gil,
I received the custom bag this morning.
Exactly what I was looking for.
Nice high quality work.
Thanks much
--
Wayne F Springmeyer
Investigator
7901 Cameron Road 2-136
Austin, TX 78754
268 East Gardena Boulevard
Gardena, California 90248
Hi Gill,
Below is a chain of emails we exchanged last year on some bags that were 4 inches in diameter, about 36 inches long with foam rubber in the ends, the zipper down one end and long handles you can throw over your shoulder.
These were perfect.
Can you give me the cost for two more this year?
I can send a picture or mail you one if you do not recall the order. We are looking at needing them in a month-and-a-half from now.
Thanks,
Jason
1812-B Alpine Drive
Clarksville, TN 37040
Save A Life
Urb. Valle Verde
Calle Rio Orocovis AT4
Bayamón, PR 00961
20th Century Fox - BONES
Attn: Ian Scheibel
10201 West Pico Blvd
Bldg 1/101
Los Angeles, CA 90064


Contact Name: Ian Scheibel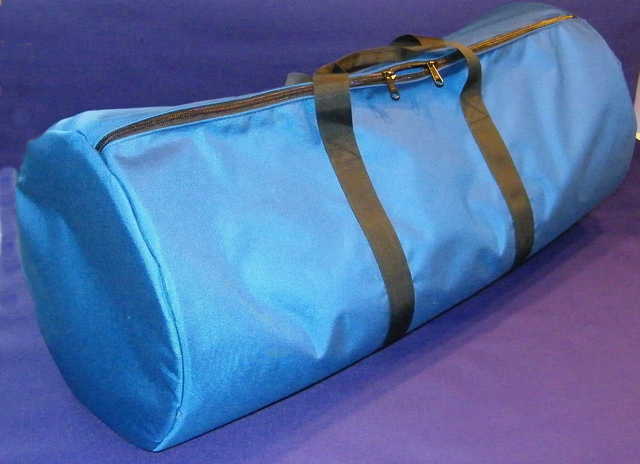 Gill & Linda,
Just to let you know we received our custom bags and are very pleased with your workmanship. We would order from you again and will recommend you to others.
Thank you,
Ron
Hi Gill, I can't believe so much time has passed and how the original bag you guys made is holding up to rigors of 100's of gigs and tours! I would like another one identically made with the addition of some zippered pockets, preferably on the inside Thanks again//Sheldon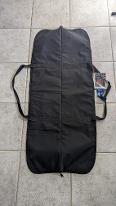 Good afternoon Gill,
The bags arrived and they fit perfectly. High quality as always, thank you sir!
Tu-Can Jamz Mobile Productions
Gill,
I just wanted to take a moment and thank you for a great product. We received it a couple weeks ago and it worked perfectly for our needs. No doubt, I will need another bag and you are first on my list. Thanks again!
Justin McConnell
Production Artist
Platinum Creative

Brian Donnelly <bingorn@gmail.com>
  Got the bag today - it is perfect - just like the one we got a couple of years ago - which by the way is still excelent - now our BBQ and the outside WOK are both contained and kept clean - I don't know how people can keep a BBQ outside with the lizzards , rats  and  bugs  without a cover.
    Brian
Hey Gill,
I received the canvas bag I ordered.
Thanks for a great job, it was better than what I expected.
Worth every penny.
Best Regards,
Anthony Seminara
aseminara52@outlook.com
Lucy Widoff <lucy.widoff@rightflorida.com>
Hi Gil,
We got the bag. Thank you so much! It is perfect and everything fits great! We are very happy! Best Regards, Lucy